Planning for something that must happen
Social Responsibilty in Choral Programming
By Elizabeth Leather, 23 April 2021
Planning for something that might or might not happen is a new staple of life in the Arts; yet I find myself reflecting on what must happen in concert programming, going forward. It is no longer good enough to construct a programme based on music I 'know'; music I think my choir will 'like'; music that will not 'put off' the audience.
I believe that choral music has as much power as any other art form to make a statement, to challenge its listener, and to stand in solidarity against systemic injustices. Perhaps even more so than music without text, given its implicit nature - that of gathering people together to deliver a worded message. In the words of Dr. André de Quadros, "an unstoppable quality of choral music lies in its power to mobilize a community, to provide a platform for protest, and a unifying voice."
Arranged and conducted by Dr. Alexander Lloyd Blake
For example, choral music in Christian traditions serves the function of enhancing the worship and promoting unity of thought, by presenting key texts in musical form. In the same vein, words can be chosen for their message and interpreted by the composer to support a cause, or to emphasise a point of view.
Then there's the physical interaction that occurs between a choir and their audience: for singers, the breath is their instrument. Singing with and for others - that is, breathing together - is an intimate experience, something revealed by its all but complete disappearance during the Covid-19 pandemic.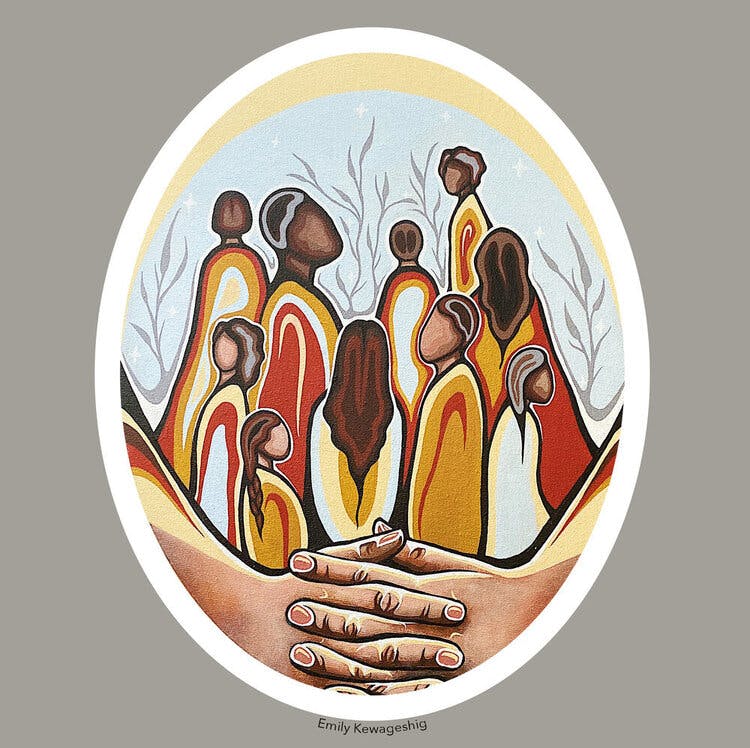 'Protect BIPOC' by Emily Kewageshig, Anishinaabe artist
This physical intimacy leads to a more abstract, metaphysical interaction between choral singers and their audiences, something along the lines of: I am singing, my neighbour is singing; we are one. I am singing, my neighbour is listening; we are in dialogue. I am listening, my neighbour is singing; I, too, can make sounds with my voice; I can relate to you. 
It is this relational aspect of the choral experience that I believe makes it such a powerful vehicle for social change. There is an opportunity to be intentional with people's attention.
Yet my responsibility as a cis white choral conductor, with power and privilege, is to question my intentions. Why do I want my choir to sing this piece? Why does this song need to be heard? With whom are we showing solidarity by performing this piece?
The role of the choral director is to make decisions. I choose, simply, to make art that is relevant. Choral music is relevant only when it is intentional. For me, this involves decolonising knowledge in choral music by presenting more than one narrative; performing non-idiomatic music by minoritised composers; questioning my relationship to canonic pieces and contextualising these away from central focus in concert programmes.