Our 2020
19 April 2021
As for the world, 2020 was an unusual year for Hesperos. However, we managed to keep in touch and make music together despite the pandemic.
Following our concert of Advent and Christmas music at St George's, Bloomsbury at the end of 2019, we started the year running with another ambitious programme. Throughout January and February we were preparing for a concert centred on Herbert Howells' Requiem called One Equal Music, at St Francis of Assisi RC Church, Notting Hill on 28th March. The choir was in fine form, and enjoyed having the time to really get into the detail of some beautiful music, working with Chris Breeze and Polly Gamble as well as myself. Unfortunately the arrival of Covid-19 in the UK put a stop to rehearsals in the middle of March, and we made the difficult decision to cancel our concert due to the uncertainty of the situation, a decision which was then superseded by the national lockdown that began on 23rd March.
From the first Tuesday of that lockdown the choir began meeting weekly online using Zoom, a novelty that quickly became ubiquitous for every work and social meeting from that point. We made an attempt to sing live over the internet for a birthday, but soon realised (as did every other choir in the world) that it didn't quite work. As those strange weeks and months rolled on we continued to keep up the Tuesday evening meetings for those who were interested, with some occasional sing-throughs and quizzes. This early lockdown period culminated in a 'virtual choir' composite recording of Over the Rainbow, which choir members recorded at home and Charlie combined, with some audio help from Calum Bell. It was a lovely way to keep in touch with friends and followers of the choir, and helped us feel that we were still in some sense singing together.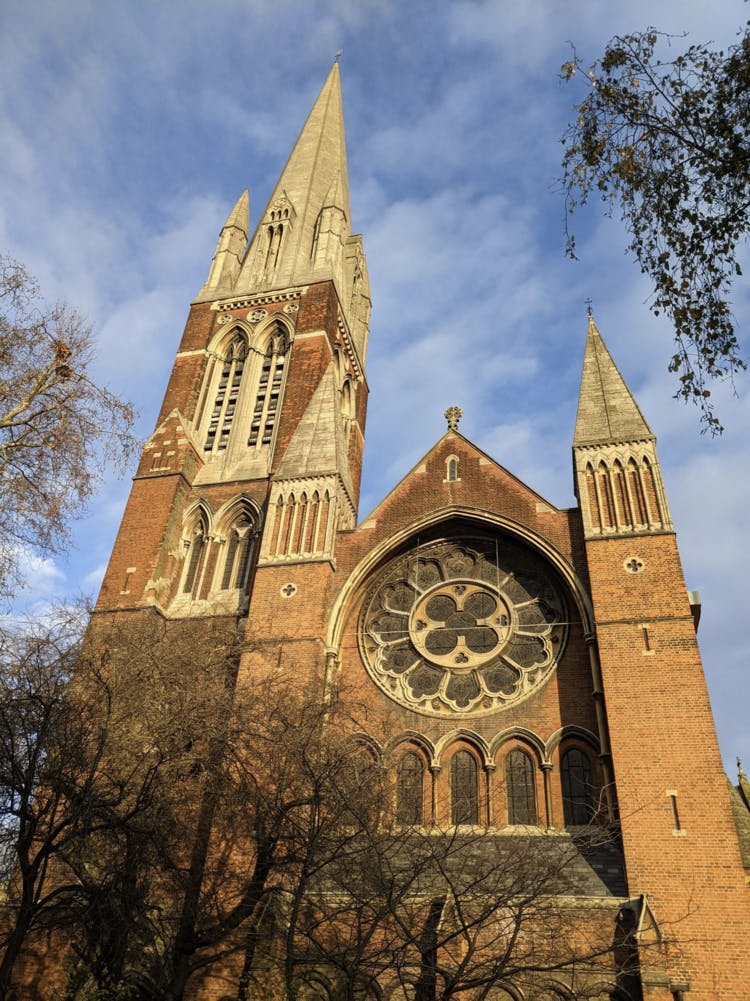 St Augustine's, Kilburn
Over the summer we took our usual break, and the committee began to formulate some ideas for when and how Hesperos could return to singing, as the government slowly issued safety guidelines. On Lizzie Leather's return to London, after a year studying for an MA in Choral Conducting at the University of Birmingham, we devised a plan to start rehearsing in person again, and were lucky enough to be invited to sing for an Advent carol service at the church of St Augustine, Kilburn. At that point the Covid situation in the UK began to change course, and we were forced to go back to fully online rehearsals during the November lockdown. Luckily, St Augustine's were able to move their carol service a week later, so it went ahead on Sunday 6th December.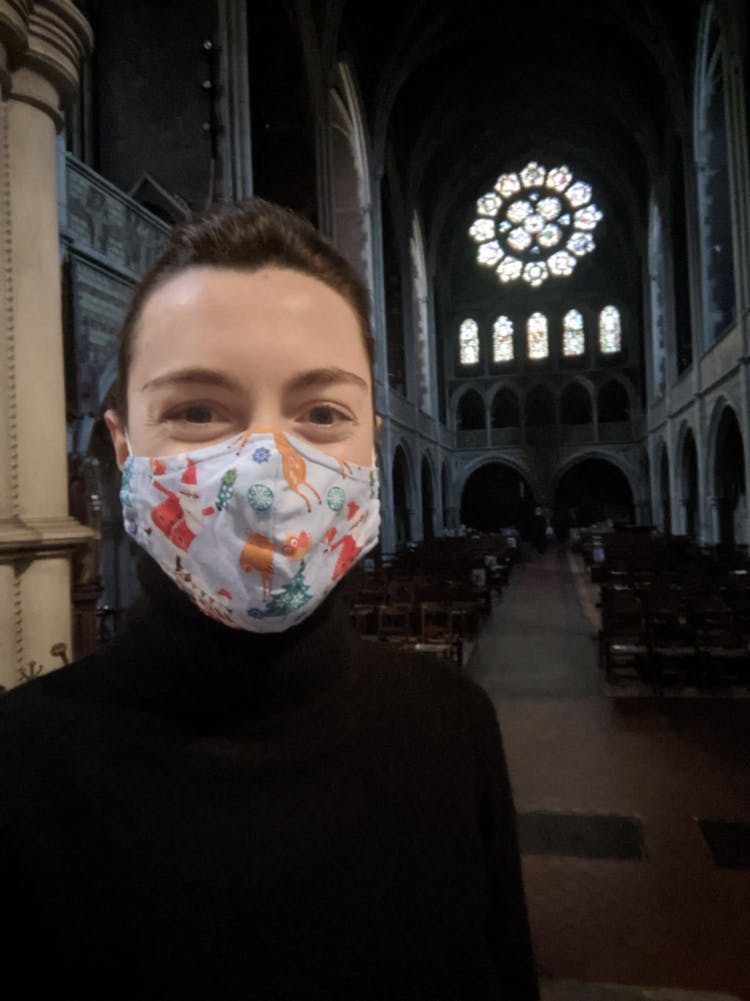 Lizzie in a festival mask
Thanks must go to Fr Amos and the Director of Music Daniel Turner at St Augustine's for their accommodation of the choir, who were delighted to be able to sing in public for the first time since March. Of course, many of our friends and family were unable to attend due to the restrictions in place at the time, and with that in mind we also produced another 'at home' recording of Vaughan Williams'The Truth from Above. Finally, in mid December a group of choir members under Lizzie's direction took part in some socially-distanced, outdoor carolling for patrons of The Windsor Castle, Notting Hill.
It's been a weird old year, but Hesperos stuck around, albeit in online-only form for a while – watch this space for more news in 2021!